Two Tailz Rescue, Inc. is a registered, 501(c)3, non-profit organization dedicated to rescuing, rehabilitating, and rehoming homeless, abused, and neglected dogs, both from high-kill shelters as well as off the streets. Two Tailz specializes in hard-to-rescue street dogs and shelter dogs who have not been rescued by other rescue groups.
Freedom Flightz is a subsidiary of Two Tailz Rescue and is an organic group of private pilots in the Atlanta area who help fly rescue dogs to safety, so more can be rescued faster. Freedom Flightz works directly with Pilots n' Paws for long distance transports.
Our efforts are entirely funded by tax-deductible donations from individuals and organizations desiring to make a difference in saving the lives of animals and educating society on the ethical treatment of animals and the importance of spaying and neutering.
---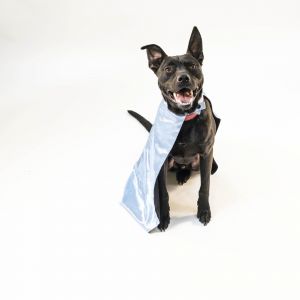 Labrador Retriever
Spayed/Neutered
Up-to-date with routine shots
Forte is one of the most genuinely grateful pups, showing affection to everyone he meets as if to say thank you! He is so gentle and will give you calm hugs, sweet kisses, or rest his head on your shoulder to show he cares. He is a laid back boy but would love doggy companions in his future home to continue to bring out his playful side or follow around the yard and walks. He is smart and very trainable as he is highly treats motivated. Forte and his cape is ready to be your crime fighting partner.
Young, Male, Medium
---
Two Tailz Rescue is not breed-specific but does rescue a significant amount of 'bully breeds,' particularly pit bulls – these dogs are the most docile, loyal, intelligent animals, who are most likely to be abused and are passed over frequently and euthanized most often in shelters. We vehemently oppose any Breed-Specific Legislation (BSL), as breeds themselves are not dangerous, but humans who create unfavorable situations that lead to dangerous dogs.
We help those who cannot help themselves, and we are dedicated to educating pet owners about the realities of pet guardianship, the criticality of spaying/neutering their pet(s), and educating the community about the senseless acts committed against animals that go unpunished in our judicial system.
---
Tiger was never just a dog. He was the dog of a lifetime – a true companion, friend and family member.
Lisa and Brock recently had to kiss their beloved pittie Tiger goodbye. He was more than just a four legged animal to them. Tiger was their confidant, teacher, and a sage for them throughout their entire relationship.
To read Tiger's story – Lessons From the Hardest Goodbye, of how he brought Brock and Lisa together and taught them how to love. Click here.