Two Tailz Rescue, Inc. is a registered, 501(c)3, non-profit organization dedicated to rescuing, rehabilitating, and rehoming homeless, abused, and neglected dogs, both from high-kill shelters as well as off the streets. Two Tailz specializes in hard-to-rescue street dogs and shelter dogs who have not been rescued by other rescue groups.
Freedom Flightz is a subsidiary of Two Tailz Rescue and is an organic group of private pilots in the Atlanta area who help fly rescue dogs to safety, so more can be rescued faster. Freedom Flightz works directly with Pilots n' Paws for long distance transports.
Our efforts are entirely funded by tax-deductible donations from individuals and organizations desiring to make a difference in saving the lives of animals and educating society on the ethical treatment of animals and the importance of spaying and neutering.
---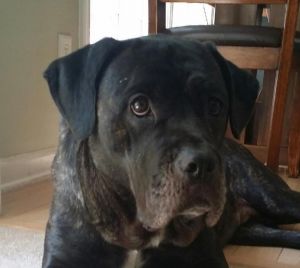 Cane Corso Mastiff, Mastiff
Up-to-date with routine shots
Spayed/Neutered
Lovely Lucille has one of the most soulful faces we've ever seen! This big, beautiful girl is a beautiful brindle mix - perhaps Cane Corso? Mastiff? We're not entirely sure, but whatever she is, she's gorgous. Lucille is approx. 4 years old, weighs 82 lbs., is spayed, current on vaccines and HW/Flea preventative. She is pending heartworm treatment, but that does not prevent her from being VERY adoptable. Lucille LOVES people and is excellent with children - a home with kids 12 or older would be best. She does NOT like other dogs or cats, and needs to be the only pet in the home.
Adult, Female, Large
---
Two Tailz Rescue is not breed-specific but does rescue a significant amount of 'bully breeds,' particularly pit bulls – these dogs are the most docile, loyal, intelligent animals, who are most likely to be abused and are passed over frequently and euthanized most often in shelters. We vehemently oppose any Breed-Specific Legislation (BSL), as breeds themselves are not dangerous, but humans who create unfavorable situations that lead to dangerous dogs.
We help those who cannot help themselves, and we are dedicated to educating pet owners about the realities of pet guardianship, the criticality of spaying/neutering their pet(s), and educating the community about the senseless acts committed against animals that go unpunished in our judicial system.
---