Two Tailz Rescue, Inc. is a registered, 501(c)3, non-profit organization dedicated to rescuing, rehabilitating, and rehoming homeless, abused, and neglected dogs, both from high-kill shelters as well as off the streets. Two Tailz specializes in hard-to-rescue street dogs and shelter dogs who have not been rescued by other rescue groups.
Freedom Flightz is a subsidiary of Two Tailz Rescue and is an organic group of private pilots in the Atlanta area who help fly rescue dogs to safety, so more can be rescued faster. Freedom Flightz works directly with Pilots n' Paws for long distance transports.
Our efforts are entirely funded by tax-deductible donations from individuals and organizations desiring to make a difference in saving the lives of animals and educating society on the ethical treatment of animals and the importance of spaying and neutering.
---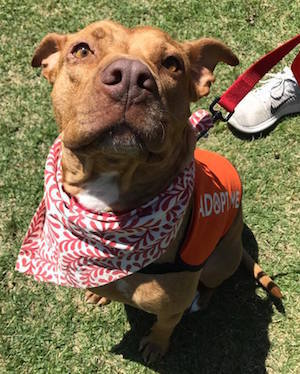 Pit Bull Terrier, Vizsla
Up-to-date with routine shots
Spayed/Neutered
Lucy is a soulful pitbull-vizsla mix, overflowing with love and joy. Two Tailz pulled Lucy from a local shelter just hours before she was euthanized. You wouldn't know it watching her booty wiggle at incredible speeds and she truly laughs through her happy tail! She is a low energy pup and perfectly content snuggling on the couch, keeping your feet warm at your desk, or leaning against you while soaking in the spring sun! Lucy is excellent with human, kids, most dogs, and catz (pending a meet & greet). She has beautiful big ears that make her one of our most endearing adorable adoptable. Lucy is ready to hear all the sweet nothings you can think of! She will ruv you with all of her heart.! Two Tailz Rescue did not anticipate the substantial costs associated with Lucy who came to us with terrible, painful injuries from her abusers at the shelter. She was also very emaciated and dehydrated. Lucy is a fighter and now needs to know the love of a happy home.To donate, visit www.paypal.com and use email info@twotailzrescue.org.
Adult, Female, Medium
---
Two Tailz Rescue is not breed-specific but does rescue a significant amount of 'bully breeds,' particularly pit bulls – these dogs are the most docile, loyal, intelligent animals, who are most likely to be abused and are passed over frequently and euthanized most often in shelters. We vehemently oppose any Breed-Specific Legislation (BSL), as breeds themselves are not dangerous, but humans who create unfavorable situations that lead to dangerous dogs.
We help those who cannot help themselves, and we are dedicated to educating pet owners about the realities of pet guardianship, the criticality of spaying/neutering their pet(s), and educating the community about the senseless acts committed against animals that go unpunished in our judicial system.
---